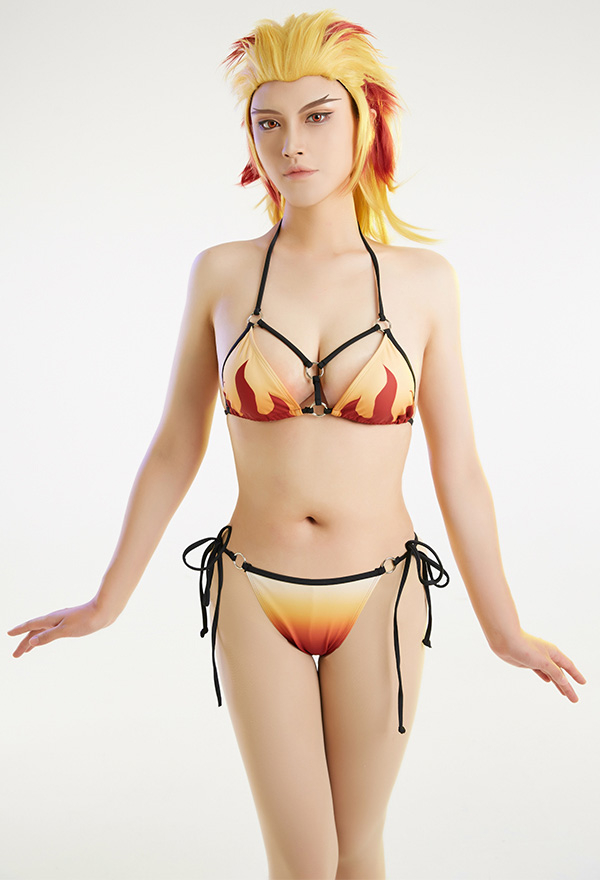 Ladies and gentlemen, brace yourselves for the most scorching fashion trend of the year! It's the moment you never knew you were waiting for: the Flame Hashira from "Demon Slayer" has just made a fiery entrance into the world of swimwear fashion. And let me tell you, it's a sight to behold! But wait, before you dive into the sizzling details, let's stoke the flames of curiosity with a little humor, shall we?
Picture this: You're casually scrolling through your feed, expecting the usual bikini-clad models flaunting their curves, when suddenly, you stumble upon the Flame Hashira himself, decked out in a three-piece bikini! Now, I'm not saying it's wrong. I mean, who wouldn't want to see the Flame Hashira in a bikini, right? But let's just say, it's not something you can unsee.
In a world where "Demon Slayer" merchandise has already taken a plunge into women's lingerie (yes, you read that right), including patterns featuring our beloved Tanjiro, Nezuko, and even the Butterfly Estate's motifs, we thought we'd seen it all. But lo and behold, Japan's Twitterverse has once again left us questioning the very fabric of reality.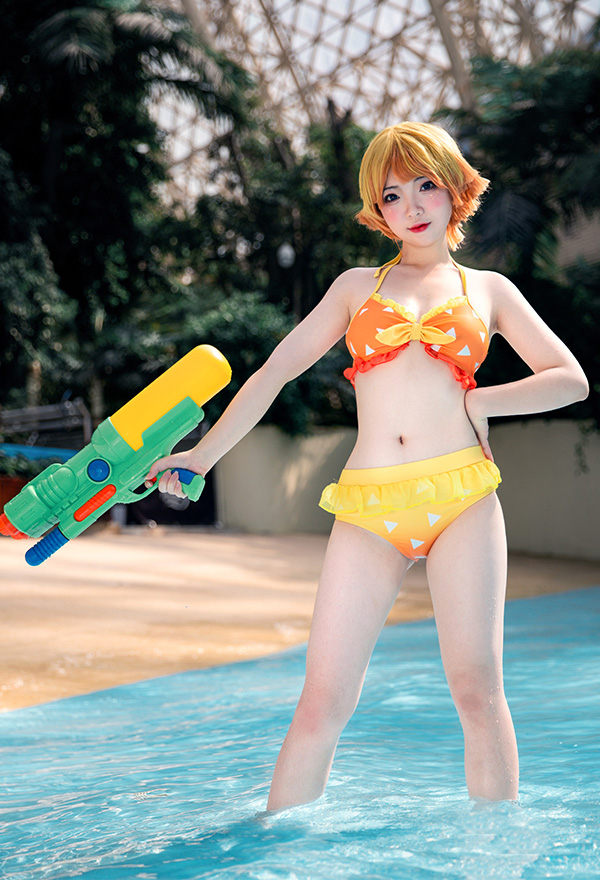 This time, it's not just about second-dimensional drawings of Tanjiro sporting lingerie; it's about the Flame Hashira, the one and only Kyojuro Rengoku, rocking a bikini like it's nobody's business. At first glance, the three-piece bikini in his signature style seems harmless enough. But once you open the image and see it worn by a model, well, let's just say you might need to brace your jaw for a potential drop.
Now, don't get me wrong—the model's physique is nothing to scoff at. But when you have the Flame Hashira's face peering back at you from that bikini top, it's a whole different story! It's as if the world of "Demon Slayer" collided with the world of beachwear, leaving us in fits of laughter and disbelief.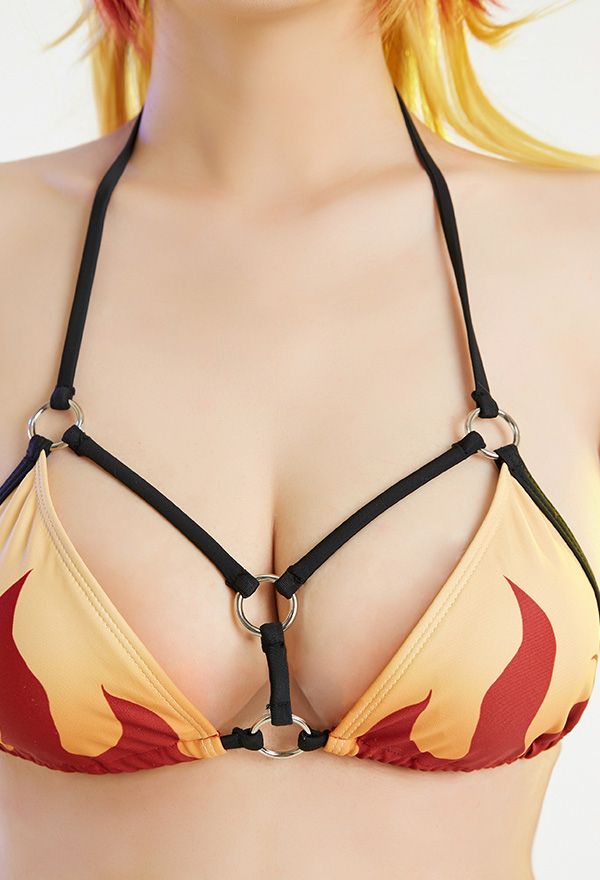 Kyojuro Rengoku, with his dynamic personality and fiery disposition, is undoubtedly a beloved character. But seeing him don a bikini—well, that's a different kind of fiery charm! It's a fusion of elements that leaves us utterly flabbergasted and unsure if we should applaud the creativity or run for cover.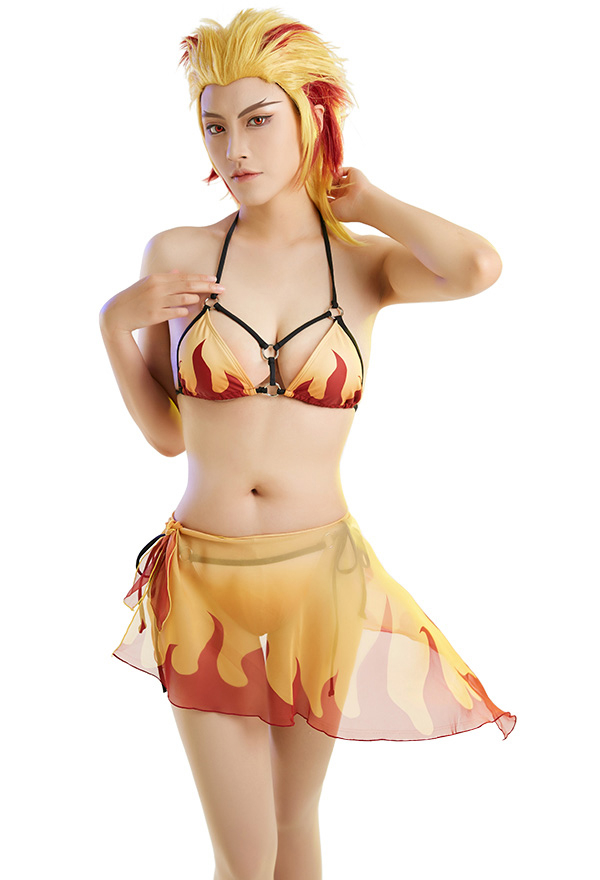 In contrast, let's not forget about another character who's joined the bikini party—Zenitsu Agatsuma. His adorable and colorful swimsuit is a delightful match for any lovely lady. The bright colors and cute design make it the perfect choice for those looking to add a pop of charm to their summer wardrobe.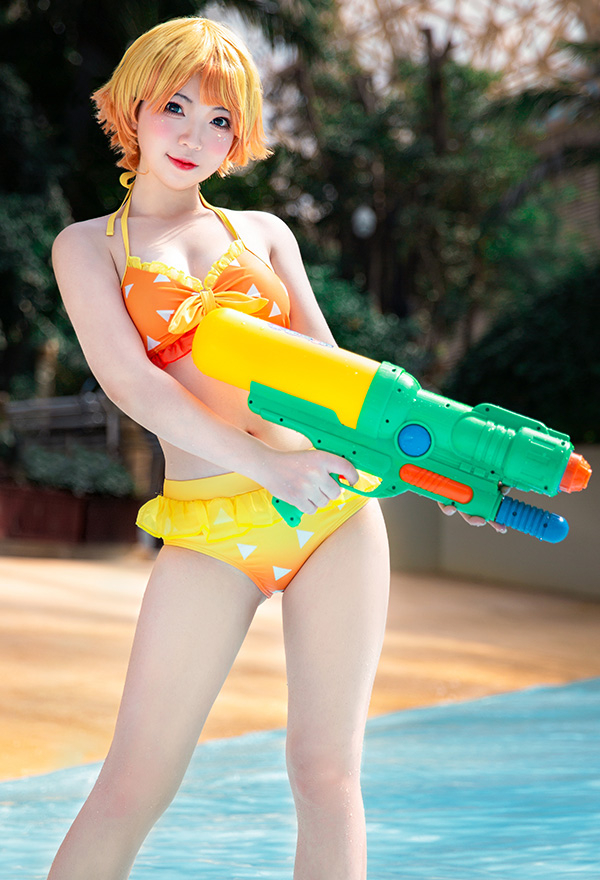 So, there you have it, folks! When the worlds of "Demon Slayer" and swimwear collide, you get a spectacle that's both hilarious and strangely intriguing. Whether you're a fan of the Flame Hashira or just in it for the sheer amusement, one thing's for sure: this summer, "Demon Slayer" has added a whole new dimension to the world of beach fashion!