Once upon a time in the colorful world of cosplay, three extraordinary beings emerged, turning the mundane into the magnificent, the ordinary into the extraordinary. These three musketeers of costume creativity are none other than Enako, Moe, and Kokoro! But wait, dear readers, this isn't your average cosplay tale; it's a journey filled with humor, whimsy, and a dash of pure absurdity!
Picture this: Enako, Moe, and Kokoro, the dynamic trio of dazzling cosplayers, who could turn a potato sack into a fashion statement, have teamed up again! They're not just any friends; they're practically inseparable—think of them as the Powerpuff Girls of the cosplay universe. But why, you ask, do they work together so often? Well, besides being the best of pals, they also happen to share a common home base: PPエンタープライズ (PPE). And guess what? The head honcho of this talent-packed agency, President Kan Yo-ko, is a Coser herself! Who knew that recruiting top-tier talent and running a business could be this much fun?
Now, fasten your seatbelts, because the latest collaboration between Enako, Moe, and Kokoro is nothing short of epic. Their newest photoshoot magazine proudly bears the title, "PPE Sisterhood." Following last year's Christmas-themed shoot, this summer, they've graced us with a poolside extravaganza in the most jaw-dropping bikinis you've ever seen.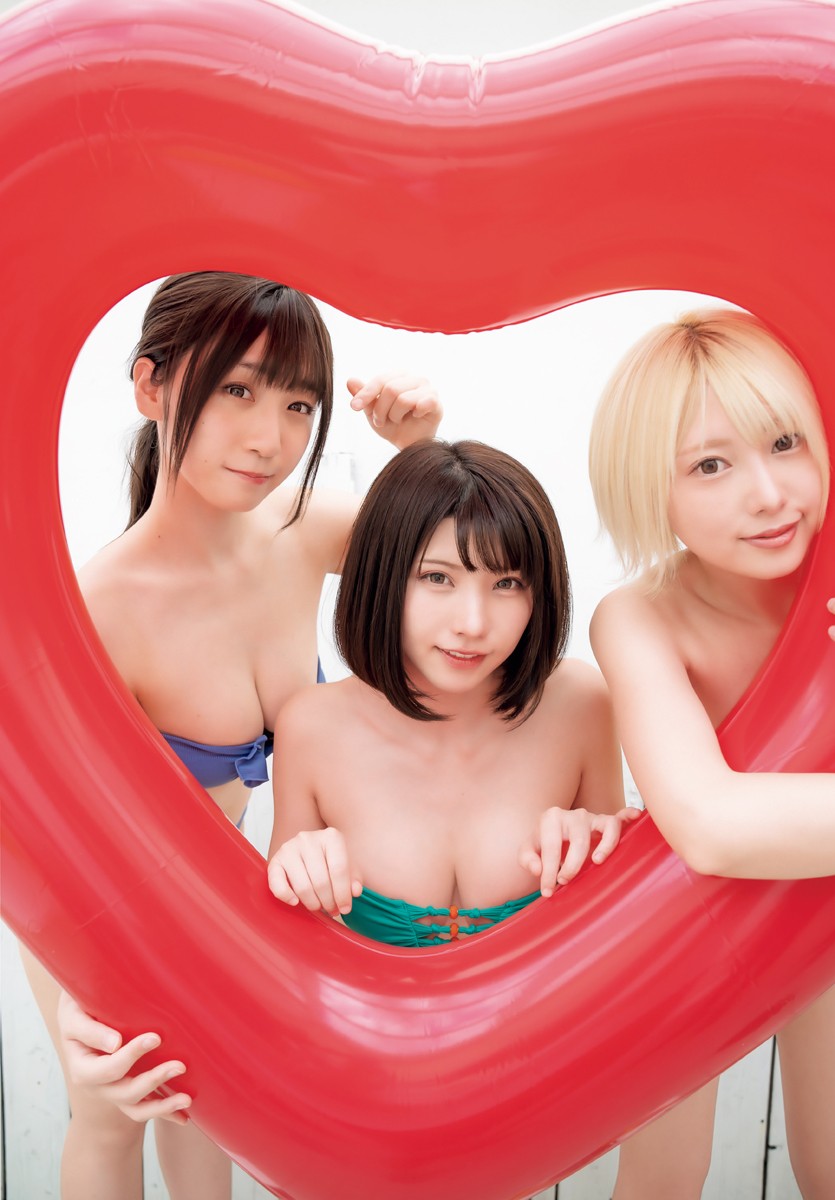 Enako (えなこ), born on January 22, 1994, standing at a whopping 153 centimeters tall and hailing from Aichi Prefecture, is the embodiment of petite power.
Moe (伊織 もえ), born on January 24, 1993, towers above at 161 centimeters and originates from Chiba Prefecture. She's got that charisma that can make any character come to life.
Kokoro (篠崎こころ), born on July 7, 1993, stands at a mere 152 centimeters, but don't let her size fool you—she's a giant when it comes to talent! Her roots trace back to Kanagawa Prefecture.
Now, imagine these three titans of cosplay, each with their unique style and charisma, coming together for a photoshoot that can only be described as a visual feast for the gods of creativity. It's like witnessing a meeting of unicorns in a rainbow forest on a sunny day!
As we delve into the world of "PPE Sisterhood," we're met with a riot of colors, emotions, and creativity that leaves us questioning the limits of human imagination. How can they pull off such intricate costumes with such grace and charm? It's as if they've made a pact with the cosplay gods themselves.
In a world that often takes itself too seriously, Enako, Moe, and Kokoro are a breath of fresh air. They remind us that we can all use a little more whimsy and laughter in our lives. So, whether you're a dedicated cosplay fan or just someone who appreciates the art of transformation, the "PPE Sisterhood" has a message for you: Embrace your inner weirdo, don that costume, and let your imagination run wild!